Welcome to Silloth Motorcycle Museum
Opened in 2019, we aim to reflect the passion and heritage of
vintage race bikes in our intimate collection.
Motorcyclists love looking at bikes with a history. Silloth Motorcyle Museum has on display a range of production and Grand Prix bikes that have been raced by Jim Snaith at iconic circuits including the Isle of Man TT and Daytona. The collection will be augmented by memorabilia, graphic information and Jim's encyclopaedic, first – hand knowledge, which he loves sharing with others to produce a memorable visitor experience.
Britain is a country of motorbike lovers with over 1.2 million registered vehicles. Motorcycle owners are passionate about their bikes and their heritage. Silloth Motorcycle Museum taps into this passion by presenting bikes rode and owned by Jim Snaith, a successful motorcycle production and Grand Prix racer. The display will be augmented by a Manx Norton from a collector.  A hands on visitor experience with Jim in the museum to provide the detail that fascinates motorcycle owners. The location is relevant as Silloth had a
well-regarded motorcycle race track until 1982
9am – 4pm
Apart from:
Mondays: CLOSED
Bank Holiday Mondays: 9am – 4pm
Wednesdays: 9am – 1pm
Silloth Motorcycle Museum News
Opening Day
Opened by Mayor Tony Markley with British Sidecar Champion Rob Fisher on Friday 19th April 2019.
Silloth Circuit
From 1964 until 1982 Silloth laid claim to its own motorcycle race track hosting numerous championship events.
Bought in 2002 and fitted with many special parts:
Race cams and valves, Straight cut gears, Gibson exhaust, Gardner carburettor and remote float, Works performance rear shocks, Grimeca front brake, Large alloy fuel tank, Double bubble fairing.

Finished 2nd in the Scottish 350 Classic Championship
as well as many other podium finishes
BSA 500
Shooting star - 1959
This bike was delivered to the Isle of Man from the BSA factory 5/10/59 to Gilbert Harding in Douglas, he sold it on the 10/10/59 you can still see his original dealer badge on the rear light.
The last time it was on the road in the Isle of Man was 1970. It was complete but in a very poor state.
Aquired by Jim Snaith in 1999
Restored in 2014
Rear brake is a CB77 front twin-leading Shoe, excellent brake AP disc on the Front.
K0 cam and race valves & springs,
Kawasaki pistons,
Cappellini oil filter,
Leo Castles lightened crank.
Many good Isle of Man finishes.
Three Manx Grand Prix without having to touch the engine apart from oil and plugs
Honda CB 450
BLACK BOMBER - 1965
Winner 2006 Scottish 500cc Classic Championship
Bob McIntyre Trophy

Many podium finishes
7th 2008 Daytona & Savannah U.S.A
Good results on the TT course and the Billown circuit
Rider Jim Snaith
Matchless G50 seat
Manx Norton front mudguard
Gb500 Petrol tank with monza cap
Alloy rear mudguard with British rear light
Allens competition carburettor
Built by Jim Snaith
MANX NORTON 30M 500 - 1962
Last raced in the Lansdowne and
CRMC Classic racing series.
 
62 spec 86×86 500cc – Last of the line.
The Manx was the backbone of motorcycle racing in the 50s to 70s and now in the classic scene.

Ray Petty spec. Owner Mr P Prudhoe
Raced in 1975 in the Avon production series along side the late greats Phil Mellor and Steve Henshaw.
Also raced at Carnaby, Elvington and other circuits.
Standard exhausts and carbs. Upgraded GT250 forks and disc brake, Koni shocks, Brembo front brake master cylinder, Ace bars and cut down seat
IAN BATY SPECIAL
Mark iv - 2022
Ian Baty is a Triumph specialist.
This is one of four bikes built with 500cc twin Triumph engines, Douglas Dragonfly modified frame and his own modified forks as well as Gardner carburettors.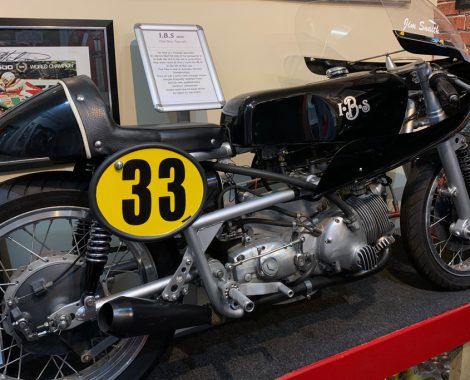 YAMAHA TZ350
G Spondon - 1983
1992 3rd Auto66 Championship
1993 15th Manx Grand Prix (Newcomer)
Sold 1994 to John Mishanec USA
Bought back 2010
2010 3rd Savannah USA
2010 3rd Daytona USA

Winner Isle of Man Billown Circuit
2012
Some of the ICONIC NAMES ON VIEW
Here are some of the comments from our visitor book
"Fantastic collection! Very interesting"
"Impressive collection, a fantastic museum"
"Amazing and educational"
"Fantastic place, will call again. Keep up the good work"